Grand Gold Medal for Iskon Oil Awarded by Novi Sad Fair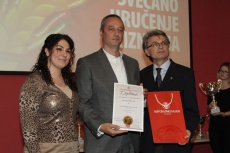 The best food products earned recognitions of quality in Novi Sad, at the traditional manifestation during the 83rd International Agricultural Fair in Novi Sad. In the category of edible oils, the expert jury of the Novi Sad Fair awarded a Grand gold medal to Victoriaoil, for their edible sunflower oil.
"We are honored that Novi Sad Fair has paid tribute to our Iskon oil several times, and that after last year's gold medal, we have won this year's Grand gold medal. In the constant struggle for competitiveness and business efficiency that is present nowadays in all segments of the economy, and also on the oil market as well, I am proud to say that the product quality is something that has never been questioned at Victoriaoil. We achieve the highest quality of our sunflower oil thanks to the most rigid controls, from the input of raw material to the final product, and by ensuring the quality according to European standards, but also to most up-to-date manufacturing technology. Comprehensive investments that have been realized in the refinery by the Victoria Group, within which we operate, and the plant for bottling and packaging oil, have enabled us to offer top quality edible sunflower oil to domestic consumers and our export markets", said Srđan Popov, general manager of Victoriaoil.
The oil refinery from Šid is one of the biggest exporters in the food sector and one of the biggest net exporters in Serbia, together with Sojaprotein, which is also a member of the Victoria Group.