The Provincial Secretary of Agriculture visits Victoriaoil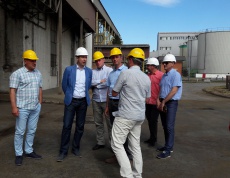 The Provincial Secretary of Agriculture, Water Management and Forestry, Vuk Radojević, visited Victoriaoil, a Victoria Group member company, during his tour through the municipality of Šid on June 27. The delegation of the ministry was received by the General Director of the company, Srđan Popov.
He presented the processing capacities, the production program, the excellent export results and the results of numerous investments in the production processes and energy efficiency of the factory. Furthermore, the processing of rapeseed was discussed, which Victoriaoil will carry out in July, as well as the preparations for the receipt and processing of sunflower. Another topic discussed was an international Award for taste and quality, the "iTQi Superior Taste Award" which Iskon edible sunflower oil has recently been awarded in Brussels.
"This product is recognized even at the European level and we, as consumers on the Serbian market, should be proud of having such a high-quality edible oil among our offers", claimed Vuk Radojević during his visit to Victoriaoil.
During the tour through the factory, special attention was paid to the refinery plant and the plant for the filling and packaging of oil. The General Director of the company, Srđan Popov, emphasized that Victoriaoil produces and bottles 300,000 liters of sunflower oil per day, and processes 320,000 tons of oilseeds from Serbian fields per year.
The Provincial Secretary emphasized the importance of the co-operational relationship Victoriaoil has with agricultural manufacturers, which is of great significance for the whole primary agricultural sector and stability on the agricultural product market. He praised the good collaboration of the company with the local authorities of Šid, as the participation in numerous activities organized by the municipality in various fields demonstrates social responsibility.